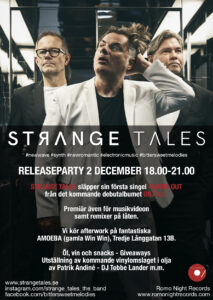 STRANGE TALES releases their first single FADING OUT and we have to celebrate with you.
So exciting to finally release a song from the upcoming debut album UNTOLD and there will also be a premiere for the music video and remixes of the song.
In connection with the release on all digital platforms, we run afterwork at the fantastic AMOEBA (old Win Win) at Tredje Långgatan 13B.
Beer, wine and snacks. Giveaways. Exhibition of the vinyl cover in oil by Patrik Andiné, DJ Tobbe Lander, etc.
Welcome!
Event: Facebook
A truly fantastic evening with Melotron, Knights and Strange Tales on stage. Romo Night spin records all night.
20190316
Welcome!
Event: Facebook
---
Lars Falk – once a member of classic Twice a Man and solo records during the 80s and 90s.
Always critically acclaimed and headstrong.
4-track digital release.
---
Bittersweet melodies from Strange Tales, back on track again. Started in 1985. If you enjoy classic synthpop in minor key.
Strange Tales will support Lustans Lakejer at Pustervik Feb 9th.
Welcome to a truly bittersweet evening.
Event: Facebook
---
First song of 2019 from The Hidden Man. Enjoy.
---
Special Black Friday deal.
Vinyl + free T-Shirt and badge.
Vinyl + free Ladies T-Shirt and badge.
This offer is valid for as long as stocks last.
---
The Hidden Man – Man of tomorrow
Electro cold wave from the north. A blend of classic EBM, electro and classic synthpop with a twist, made for the dancefloor.
Releasedate 2018-11-23
A remix-EP will see the lights in a short while.
Digital Album –  Streaming + Download
---
Some great reviews, thank you!
Blå Måndag:
Our favourite podcast show. Listen to the review (Swedish).
The Electric City Club:
"could this be Sweden's 21st Century answer to the
'Some Bizzare Album'? Of course"
Cold War Nightlife:
Fans of electronic music will find a lot to
like in this Romo sampler.
Zero Magazine: 8 of 10
Release Music Magazine: 8 of 10
---
Head over to Soundcloud to listen to snippets from the album
---
---